« Blogs Index < Interguild-Related Posts < Interguild History
« Quirvy's Blog



Forum 18





Forum 18, is an ancient civilization/forum that has been long closed down. It was discovered by Quirvy in early 2009 when Livio was creating admin and mod powers for the Interguild staff to use. Quirvy quickly discovered it and attempted to use it as a waste dump, where he could throw boards that no longer had any use. Livio was not happy with this, and decided to intervene, blocking anyone from use of it.





Since then, many discoveries have been made in Forum 18. Ancient boards reveal a place once known as "Vampireplanet", according to our translators, where "Huevamps" roamed the land, and had adventures and fun, led by a leader known as "Catta". Not much is known, but 3 pictures have been dug up, as shown below.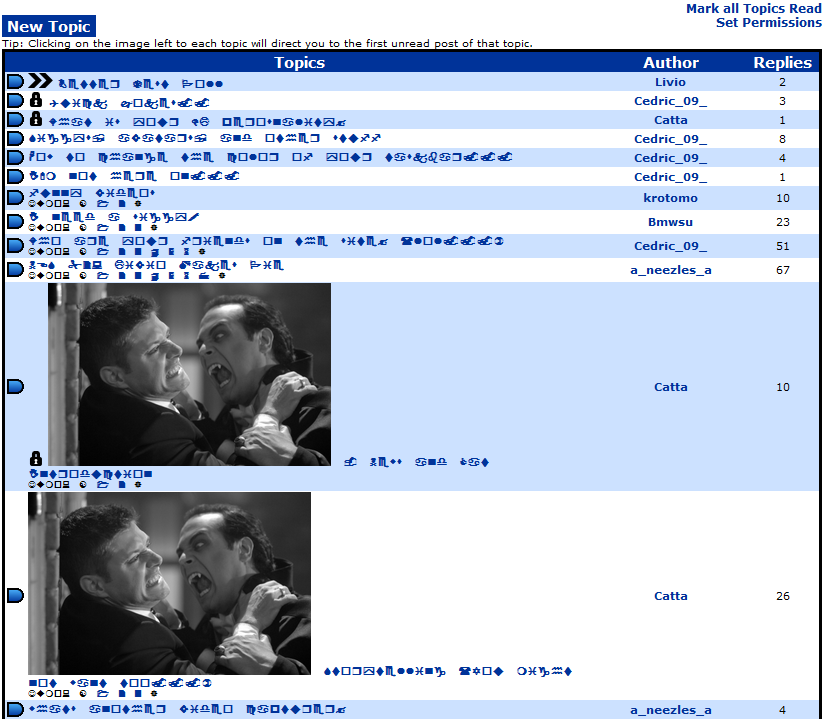 This much of Forum 18 has been discovered so far.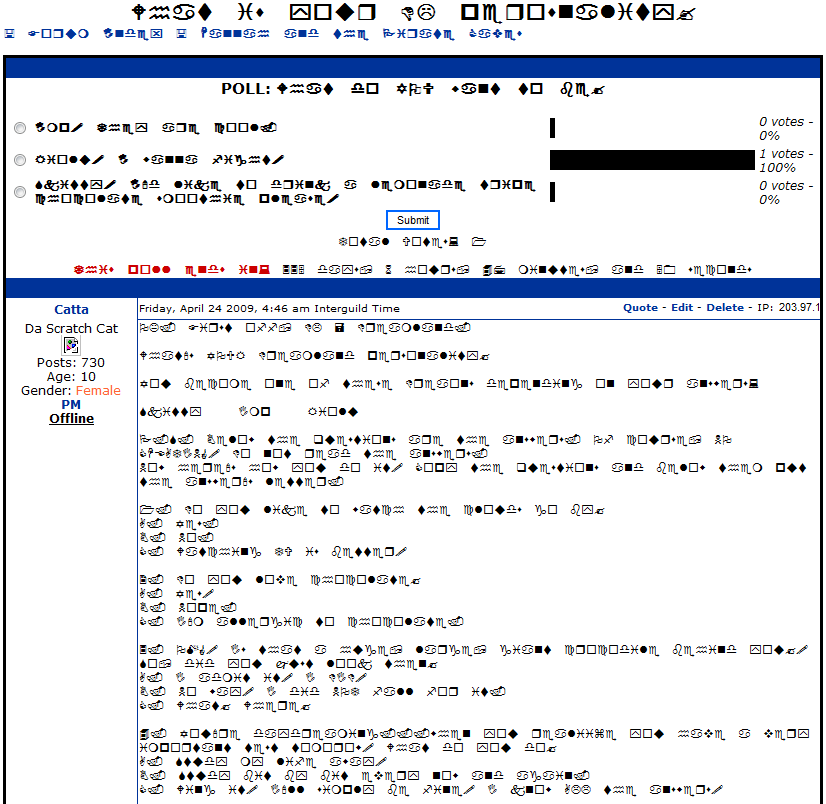 Some of the conversations enscribed into Forum 18. Not much of it has been deciphered yet, but we are making progress.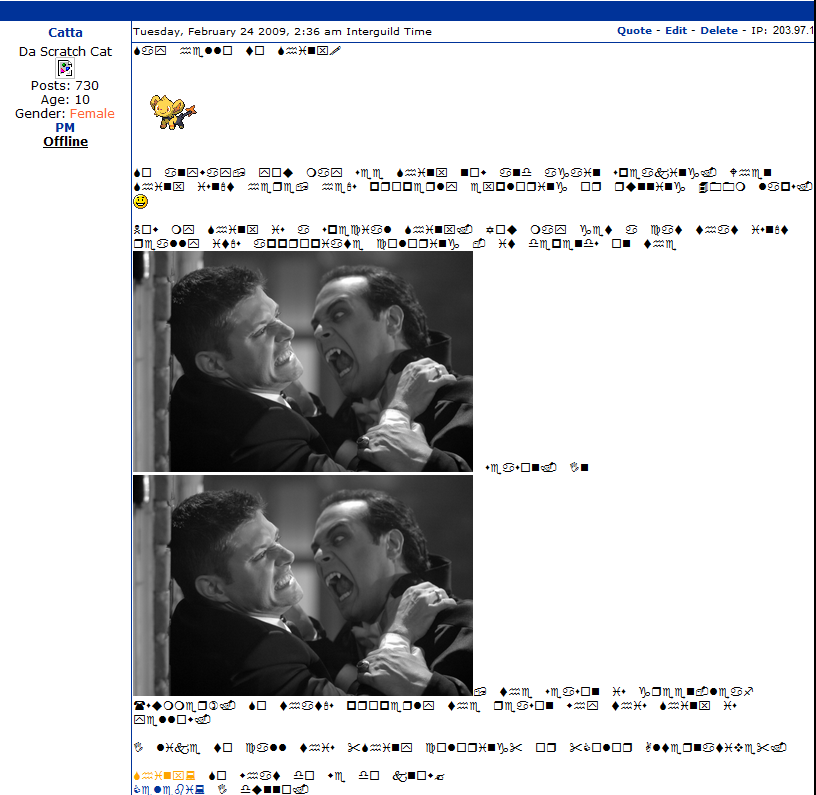 This shows what we believe to be a meeting about the huevamps






We are hoping to soon make further progress about this interesting area of the interguild, and will likely be updating this article soon.





June 12th, 2010


Update: Forum 18 is believed to have been accidentally deleted, and thus, lost forever.

In the time that forum 18 was around, some progress had been made onto the discovery of what it was.

Interguild Researchers have concluded that this lost civilization had a culture that differed greatly from the main forums. In this civilization, it is believed that they passed time by having their imaginations think... OF IDEAS! Then they would tell stories of their imagination's ideas. One such story depicted the daily lives of a fictional creature, roughly translated into a "Skitti", which we believed is actually supposed to say, "Kitty"

It is also believed that this civilization used human sacrifices.

User Comments (7)
Livio

Age: 29
Karma: 470
Posts: 9620
Gender:

Male


Location: Arizona, USA
pm | email


so what should we do with this? but then again, it's not like we can delete articles yet...

jellsprout
Lord of Sprout Tower

Karma: -2147482799
Posts: 6445
Gender:

Male


pm |

email




Save somewhere in a Notepad file and delete. Forum 18 is dead.

Edit: Or move to the Mods Forum.




---

Quirvy
  

Karma: 655
Posts: 7747
Gender:

Male


pm |

email




Leave it. It's true greatness.




---


spooky secret
Livio

Age: 29
Karma: 470
Posts: 9620
Gender:

Male


Location: Arizona, USA
pm | email


lol we could delete articles all along, but it only showed up for pending articles before...

shos
~Jack of all trades~

Age: 28
Karma: 388
Posts: 8269
Gender:

Male


Location: Israel
pm | email


it's a Jewel for our grandchildren.




---

Silver

Karma: 121
Posts: 3581
Gender:

Female


pm |

email




I know it's about Cat Planet.

Well, I've changed it...

Quirvy
  

Karma: 655
Posts: 7747
Gender:

Male


pm |

email




Catta, I think that the catplanet censor is gone now.

And the article isn't really about catplanet (Although, I did make a few references, with vampcats and such). It's more about me making fun of accel for failing at completely getting rid of a board/forum.




---


spooky secret

« Forum Index < The Interguild Board

In order to post in the forums, you must be logged into your account.
Click here to login.